Sunni Shannon is an individual who brings her A-game when it comes to making sure Duuo's partners are successful in their endeavours. Not only does she excel here at Duuo, but she also thrives in all of the other areas of her life! Sunni is an avid traveller, a nature lover, a Big Brother fanatic (maybe a future contestant), and has an overt passion for people. In simple terms, Sunni is a lover of life.
Her experience in insurance has stretched over 15 years, meaning she knows a thing or two about this line of work. She's brought this knowledge into her role as Partner Success Manager and continuously provides the Duuo team, as well as our partners, with her great ideas and expertise. Her commitment to helping our partners understand the importance and benefits of getting their clients covered has resulted in many successful and long-lasting partnerships. Sunni's love for innovation is what drew her to Duuo, and this passion is what makes her an integral part of the team!
To help you get to know Sunni a little bit better, we've decided to ask her some questions about herself and her role at Duuo!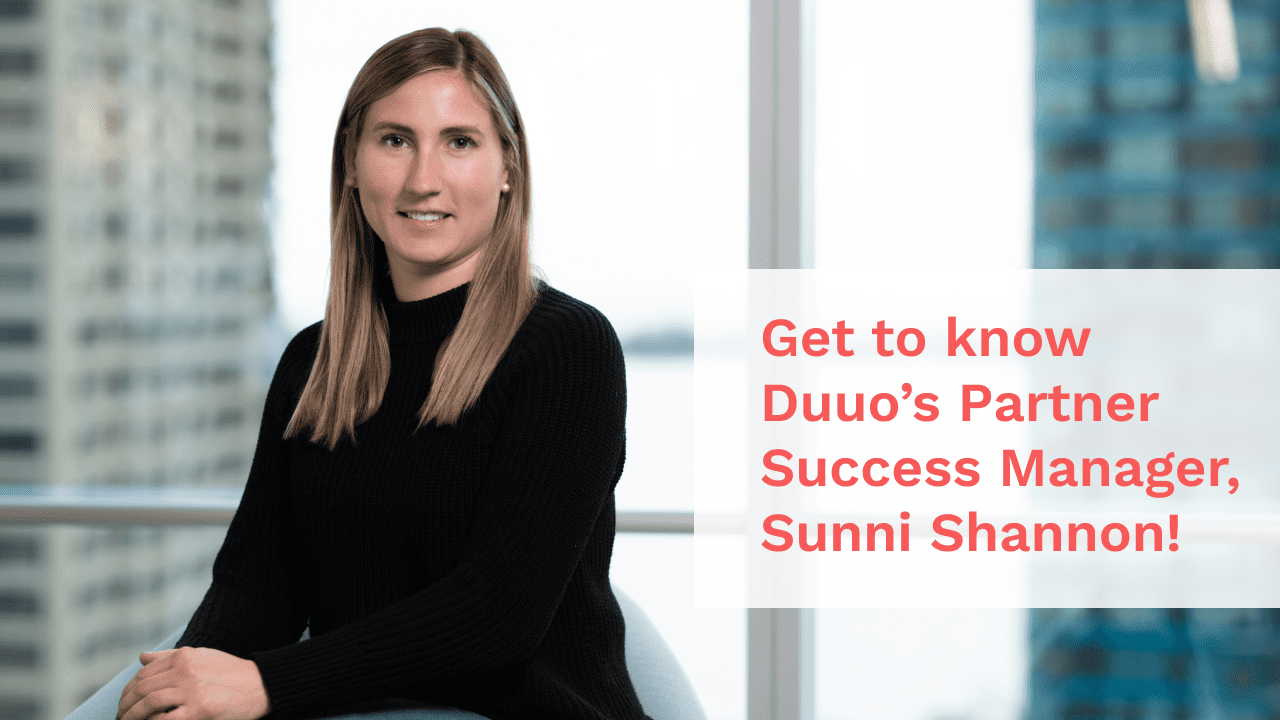 Check out this video to hear Sunni answer a few of these questions herself!
How would you explain your role as Partner Success Manager? And what do you enjoy most about your role?
As Partner Success Manager, my role consists of not only onboarding partners, but also working alongside them to help make their journey at Duuo a successful one! Among these, I work closely with our marketing team to create different content pieces to make sure that we're meeting the needs of our partners. Ultimately, my goal is to ensure that what we deliver to each partner is effective, provides beneficial solutions, and is easy for both them and their client base to use.
What I enjoy most about my role is working with people and building relationships! I'm naturally a people person, so I love being able to connect with and meet new people; I love helping others, and being able to do that every day at Duuo is very fulfilling.
What has been your favourite memory outside of work in the last year? What has been your favourite memory in the last year with Duuo?
My favourite memory outside of work has probably been my road trip across Northern Canada that I got to take with my sister. My sister moved from B.C. to the Yukon, so I met with her and we spent two weeks road tripping across those two areas. During that time, I got to see a ton of wildlife, do a lot of hiking, and go to off-the-beaten-track type places.
My favourite moment at Duuo, although there has been a lot, would be accomplishing organizational goals with my team. Meeting the objectives we set out at the beginning of 2021 was a major moment for all of us and the fact that we were all able to pull together and complete that goal a month in advance made it even better!
What's your favourite TV show?
I'm going to have to go with Big Brother! It's a classic. I've watched every season since it came out. If I was courageous enough to do one thing, like an audition for a reality TV show, it would definitely be Big Brother. I think being able to meet new people in an enclosed space and test your patience along with not having any outside technology would be pretty exciting.
Over the course of working in Partnerships, what is one interesting experience you've had with a partner that stands out to you?
Farmer's Market Ontario was our first larger association partnership, and I found that one to be interesting because we were connected with them through the relationship that they had with the Co-operators! It was cool to see how we were able to work with the Co-operators as well as Farmer's Market Ontario Association to pull in two different product offerings from each company in an effort to close some of the gaps for FMO.
The Co-operators have a great commercial program policy in place which looks after the market manager's needs, as well as some of the vendors. However, there were some significant gaps that were leaving people uninsured without access to shorter-term policies, outside of having to purchase an annual insurance policy (which could be expensive for casual vendors who only do this part-time). Seeing Duuo fill that gap for those folks as a result of the program that we created was pretty great, and I felt that people were really receptive to it!
What is something you'd like our partners to know about you?
I've been in the insurance industry for almost 15 years and I've been able to see how a lot of this industry is about the transfer of risk, a technique companies use to transfer the risk of loss from themselves to another company (for example, an insurance company). During my time in this field, I've been able to achieve different levels of accreditation, such as my CRM which has helped me provide insight into risk management best practices. On top of that, I've also received my CIP and FCIP through the Insurance Institute of Canada!
If you weren't working as a Partner Success Manager, what would you be doing?
I don't know what the job would be, but it would definitely be something people-oriented. I love working with people, helping others, and empowering others to succeed. I think I would be open to more than one role out there providing that it still allowed me to work closely with others!
Where is your favourite travel destination?
Probably Newfoundland! I've been to every province in Canada and I just have two of the territories left to go. I'm looking to check off every destination within Canada hopefully in the next 5 or so years. 
How would you describe the relationship Duuo has with our partners?
We're very service-oriented at Duuo, and as a smaller company, we can act quite quickly, which has allowed us to create successful partnerships. We've been able to customize programs, incentives, and content to really make sure that we're meeting the needs of each individual partner. If you think about larger companies that may not be able to move as quickly, or aren't able to create customized approaches, it's incredible how quickly Duuo can make this happen. I feel like Duuo takes the time to really understand our partners' needs to ensure they'll be successful.
What makes you excited about being a part of Duuo?
Having worked for the Co-operators prior to joining Duuo, it was really exciting to see the Co-operators really take a strong stance on innovation and this path to creating the future. I'm a big risk-taker and I feel like Duuo helps me to fill that need by getting to push the boundaries. Insurance has been a very traditional industry for so many years. You see all of these other industries making significant leaps, and getting to be part of that journey at Duuo is definitely very exciting and is something that attracted me to it in the first place. That's what keeps me engaged in working because I get to see what we're building for the future.
In general, what is something you'd like both potential and existing partners to know?
I would love to open new doors and explore new conversations to see if there is an opportunity to work together, especially on the new partner side. For existing partners, if there's more that we could be doing, we definitely want to explore what that might look like and be able to try to meet those needs to generate success on all sides.