Short-term Rental Insurance for Homeowners
Protect your home, one night at a time.
Perfect for hosts using platforms like Airbnb, CanadaStays, and HomeAway.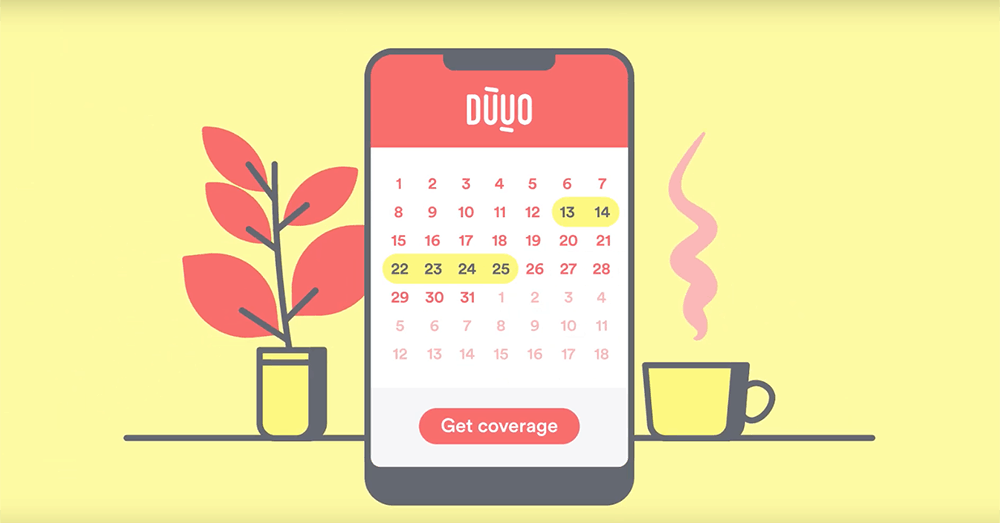 Did you know that your homeowners insurance likely doesn't cover short-term rental hosting? That's why adding Duuo is such a great solution!
Watch this video to see how Duuo works.
Feel truly protected
You can think of short-term rental insurance from Duuo like the hot fudge on top of your insurance sundae. You keep your existing home insurance policy, and then Duuo provides coverage for your short-term rental bookings.
Just turn it on before your guests arrive and then turn it off when they leave. So easy!
Just click "check out my rate" to receive your quote. It only takes about 25 seconds!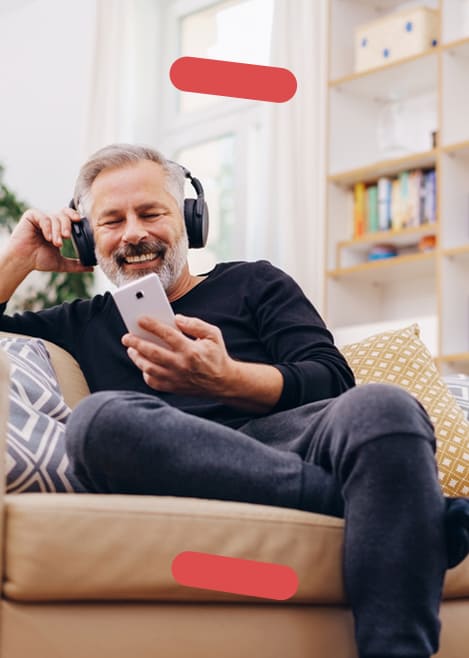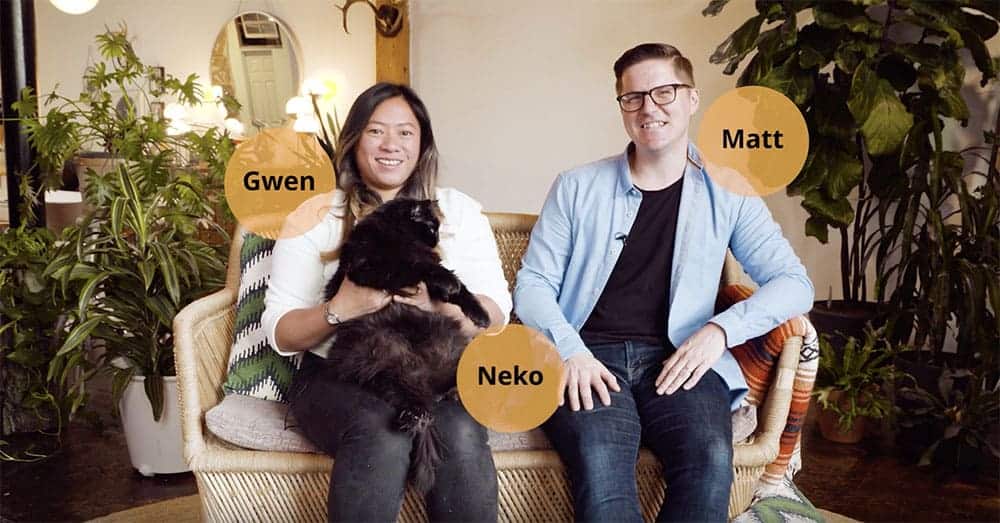 When we started hosting on Airbnb we had no idea we needed additional insurance to cover us. Fortunately, Duuo is a great solution because it's pay-as-you-go.
Matt, Gwen, and Neko
- Pet Friendly Airbnb Owners
I really appreciate the extra protection. My guests have been wonderful and have come from as far away as Switzerland. Thank you Duuo for partnering with me!
Faye
I just started using Duuo and I have a great first impression. It should help ease my concerns about hosting through Airbnb.
Steve
This is exactly the type of insurance I was looking for. I'll continue to use it.
Viktor
I really appreciate the extra protection. My guests have been wonderful and have come from as far away as Switzerland. Thank you Duuo for partnering with me!
Faye
My experience with Duuo so far has been great. It was really easy to get signed up and just as simple to purchase policies.
Katie
I really like this new company and insurance product. I find it very easy to use, like that I only pay for insurance when I need it and the coverage is good.
Gwen
Very happy with your process and online interface and pleased to be using Duuo.
Simon
So far so good! It's good to know that I can purchase insurance as needed.
Chris
I had a good experience booking with Duuo and will do so again in the future. Simple, easy and quick. This is great!
Rob
But why do I need Duuo? Doesn't the rental platform provide insurance?
Well, you may want to keep reading
If you think about it, exciting platforms like CanadaStays, Airbnb, and many others just didn't exist when home insurance policies were designed. Unfortunately, this has now created gaps in coverage that are leaving many hosts vulnerable. That's why Duuo was developed by The Co-operators.
The first thing you should know is that in general, most homeowners insurance policies do not include coverage for short-term rental activity (like hosting guests in your home).
Secondly, some platforms, such as Airbnb, do provide hosts with protection programs like The Host Guarantee and "Host Protection Insurance".
While these programs are a good start, they aren't meant to replace an actual insurance policy. In fact, most platforms (including Airbnb) encourage hosts to get their own insurance.
Short-term rental insurance from Duuo includes $2 million in liability, the full replacement cost of your home and its contents, plus an additional 15 coverages specific to short-term rentals including infestation, vandalism, loss of income, and more.
*Individual circumstances may vary. You may wish to contact the licensed insurer's representative or a licensed insurance agent if you need advice about your insurance needs.
A few claims about our claims.
Hey, stuff happens. But isn't that the whole point of having insurance? Of course! That's why filing a claim with Duuo is fast, easy, and online.
This is Luc, our Head of Claims. He's a real guy with a hilarious laugh. Luc's mission in life is to make you say, "Wow, that was so easy!"
When stuff happens, we've got you covered. And if really big stuff happens, you're even covered for loss of income.
If you have a claim, just hop online, and answer a few questions. We'll take it from there!
Getting a quote from Duuo
is as easy as 1-2-3.
Seriously, it takes about 25 seconds total.
Frequently Asked Questions
Got questions? We have answers!
Why do I need short-term rental insurance?
Everyone who rents all or part of their home on a short-term rental platform should have insurance. It's also important to keep in mind that homeowners insurance policies have many restrictions and conditions regarding the use of your home as a business. That's why the short-term rental (or homeshare) of your residence is generally not covered by homeowners policies. Fortunately, now there's Duuo! Duuo provides short-term rental insurance coverage for the time you're renting your home, not a minute more.
Doesn't the short-term rental platform I am using cover me?
Unfortunately, the host protection "programs" offered by some platforms are not the same thing as having a true insurance policy in your name. This can leave you vulnerable as a home owner because as we mentioned above, short-term rental activity is generally not covered by traditional homeowners policies. Plus, nearly all of the major rental platforms encourage their hosts to get their own protection. Want to learn more? We wrote a blog about it!
What does short-term rental insurance from Duuo Cover?
Short-term rental insurance from Duuo includes $2 million in liability, the full replacement cost of your home and its contents, plus an additional 15 coverages specific to short-term rentals including infestation, vandalism, loss of income, and more. Click here to view a summary of the policy.
How do I purchase insurance policies for my clients if I'm a property manager?
We love working with property managers, because like us, you have the host's best interests at heart! You can start by simply creating a separate Duuo profile for each property owner.
Please remember that you must have permission from the owner of the short-term rental property to purchase this insurance policy on their behalf.
We welcome any feedback on how we can meet your particular needs through future enhancement to our site. If you have any suggestions to help us meet those needs, just contact us at info@duuo.ca.
How can I register my property as being owned by a company instead of a person?
We'll be improving this experience in the very near future, but for now please just split the company name into two parts and enter them into the "First Name" and "Last Name" fields.
For example, First Name: "Heavenly", Last Name: "Lofts Inc."
How much coverage do I get with Duuo?
Here are a few highlights:
Property insurance is covered to the full replacement cost of your home, additional structures, and all contents.
Commercial liability to a limit of $2,000,000
The policy also includes coverage for things like infestation, loss of income, breakage of valuables, damage to electronics, theft, and more.
Why is the dwelling limit on the quote for my insurance policy less than the market value of my home?
Good question! The market or "resale value" of your home is typically the price that someone is willing to pay to purchase your home and the land on which your home has been built. The dwelling limit of your insurance policy quote is based on what it may currently cost to replace or rebuild your home, and excludes the value of the land.
Will I have proof of coverage?
Yes, indeed! You can pull up your coverage while logged in to Duuo. Plus, we also send you an email with your policy details.
How much is it?
A Duuo short-term rental policy averages only $6 / night. Click here to get a quote now.
What homesharing platforms do you provide coverage for? What if I don't see my platform?
There are a growing number of short-term rental platforms like Airbnb, HomeAway, and CanadaStays that are used by hosts for homesharing. Duuo provides coverage for users of these platforms and many others. In fact, our list is always growing!
You'll be provided with the full list of platforms to choose from each time you login to your free Duuo account.
If you find you are using a platform/provider not included in that list please contact our Customer Support Team at helpme@duuo.ca and provide the name of the platform so we can review for possible inclusion.
How far in advance do I have to purchase a policy?
You can purchase a policy up to midnight of your guest's first arrival date. But if you want to plan ahead, you can purchase policies all the way up to one year in advance.
What if I purchase a policy and then need to cancel it?
Policies may be cancelled for a full refund up to midnight of the scheduled policy start date (your guest's arrival date).
Once you've logged in to Duuo, you can cancel your policy in one of two ways:
From the Stays Dashboard, select DELETE on the hamburger menu on the right.
From the Stays Dashboard, select VIEW STAY on the hamburger menu , and then click the 'Delete stay / policy' button.
How do I file a claim?
Easy! Just log in to your Duuo account, and then enter your claim right through the homeshare dashboard. You'll be asked to provide a few details of what happened and then we'll get started!