Duuo Event Insurance Updates
What's changing?
If you're looking to purchase an event insurance policy, you will need to do so here: event.duuo.ca. You can also find this link in the "Get Quote" buttons on our event insurance page.
Additionally, we've made some enhancements to our event insurance. This includes:
Multi-day purchase feature (for recurring events): Clients can now take out one policy for a recurring event series vs. taking out multiple policies.

For example, if you're hosting a Tuesday night pickleball league during the Fall season, you can purchase a multi-day policy for this series.
**If your events do not fall under the same event type, you will need to take out a single policy for each event. For example, if you are hosting a baby shower and then hosting a pickleball game two weeks later, you will need to take out one policy for each of these events.

Larger event-type drop-down list: Our quote/purchase journey now includes a more extensive list of event types to choose from.
General UX (user experience) enhancements: We've made improvements to our customer dashboard along with UX improvements to our quote/purchase journey.
How to purchase and activate your new Duuo Event Insurance account (this information does not apply to vendor and tenant clients)
The quote and purchase process will remain the same, however, as you go through our new event insurance journey and purchase a policy, a new Duuo account will automatically be created on your behalf. As you get a quote and purchase a policy, you'll be sent an email that prompts you to activate your new Duuo account. You will need to activate your account in order to Login and view your recently purchased event insurance policy.  
Follow these steps to activate your new Duuo Event Insurance account:
Check your email (and your spam folder!) to find our

account activation email

. Click the link provided in the email.

Once the link opens, you'll be prompted to

create a unique password

for your new account using 1 uppercase letter, 1 number and 1 special character. 

Once you create and confirm your password, you will get access to your

new Duuo account

and your new customer dashboard.

To

log back into your account

after it's been activated, head to duuo.ca and click the "Login" button.

Next, select "Event Insurance" in the pop-up menu. Or, you can Login to your new account at this link here. 
NOTE: As of July 13th, all event insurance purchases must be made at event.duuo.ca or through your new Duuo account. Clients can get a quote and purchase vendor and tenant insurance as usual on our website or through their pre-existing Duuo account.
How do I Login to my Duuo account?
Visit www.duuo.ca. Click "Login" in the top right corner.
After clicking "Login", the window below will appear. If you are looking to Login to your newly activated Duuo Event Insurance account (for event hosts) you will click "Event Insurance". If you are looking to purchase tenant or vendor insurance (or are needing to see an event insurance policy purchased before July 13th) you will click "Other Insurance" and log in as usual.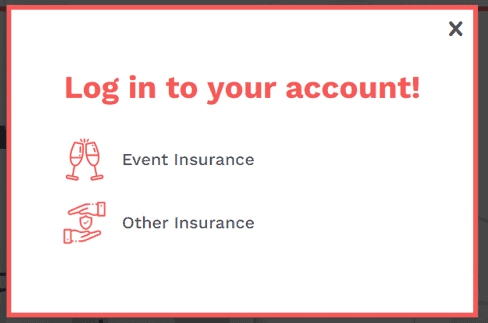 **For the time being, we currently have one customer platform for event insurance, and one customer platform for vendor and tenant insurance. If you are a client looking to purchase event insurance along with another insurance product of ours, you will need to manage two Duuo accounts moving forward.
Duuo Event Insurance Partners and Clients
To receive preferred pricing when getting a quote, ensure you search for your venue by typing in the full address, not the venue name. Select the address with the Duuo Partner Tag.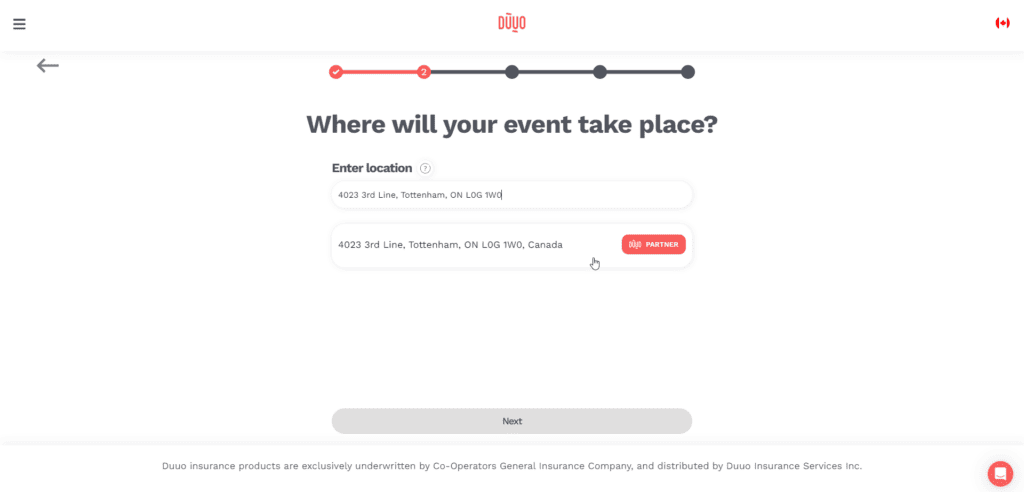 If you have any questions about this new update, reach out to our customer support team by emailing info@duuo.ca!